THE HAUTE ROUTE CHAMONIX ZERMATT BY EBIKE
From 04 to 10 of July 2022: sold out !
From 11 to 17 of July 2022
From 01 to 07 of August 2022
From 12 to 18 of September 2022
From 26 of September to 02 of October 2022

"Be ready for an epic Haute Route by e-bike through the Alps

"
– e-MTBswissalps , your e-MTB journey Est 2018 –
HIGHLIGHTS
Ride the longest "bisse" in the Swiss Alps.
Stay in a historical mountain hotel on a 4'000m panorama.
Bike close to the iconic "Matterhorn" perched like a spire above Zermatt at 4'478-meter high.
Enjoy a lunch break made of Swiss cheese and dry meat with the view of "Mont-Blanc", European highest peak.
Sit in the hot tub with a cold beer after a day of singletrack exploration.
ARRIVAL IN CHAMONIX. BE READY FOR YOUR NEXT ADVENTURE
If you're traveling long distance or across several time zones to reach France, then we would recommend arriving in Chamonix, Mont-Blanc a day or two early to allow your body to adjust and to make sure any flight or luggage delays won't spoil your trip. Take time to enjoy this incredible mountain village!
DAY 1: BECOME CONFIDENT WITH FLOWY TRAILS
Your guides and staff will meet you at the mountaineers traditional cafe in Chamonix, Mont-Blanc. Experience the history of our forefathers preparing their adventures down into the valley. Here we will hold the all-important pre-trip briefing. Your guides will set the tone of the week ahead, explain the trails to come and answer every question you may have.
After your coffee meeting, you'll gather your bikes or receive rental bikes. You'll be testing them on the first easy flat ride to "Le Tour" to warm up. Now it's time for your first single balcony trail. The view on the "Émosson dam" and Swiss valleys are magical. The trail is mostly flowy – helping you feel comfortable with your bike.
A little ascent up to a «Tour de France » pass and you'll ride downhill into a Swiss valley on an easy trail. It is now time for a lunch on a unique UNESCO world heritage: « pierres sèches » wall. After changing batteries, it's time for a last facultative climb including shortcuts in order to train on «uphill singletrails». Finally, and before even noticing it, it is already time for a drink next to the beautiful lake of Champex. Tonight we sleep at «La Grange» enjoying mum's food!
Distance cycled: 29 or 39 km (last ascent facultative)
D+ : 1250 m. or 2000 m.
D- : 2000 m.
Technical difficulty: 2
DAY 2: ENDURO MECCA IN VERBIER
The day will start with a super nice flowy trail, which will give you a chance to practice your «e-Bike switchbacks ». A long climb  will lead you to the top of a mountain facing Verbier, the enduro biking and freeride Mecca. A super nice classical forest singletrail will bring you to the Verbier ski lift. Here, you can choose between a super wild alpine trail or the flowy bikepark blue line. Both will bring you to the highest European mountain irrigation channel (a bisse). This beautiful panoramic trail will lead to our lovely Chalet, the best place to eat the local wild game hunted by daddy.
Distance cycled: 40 km
D+ : 1000 m.
D- : 2650 m.
Technical difficulty: 2 to 3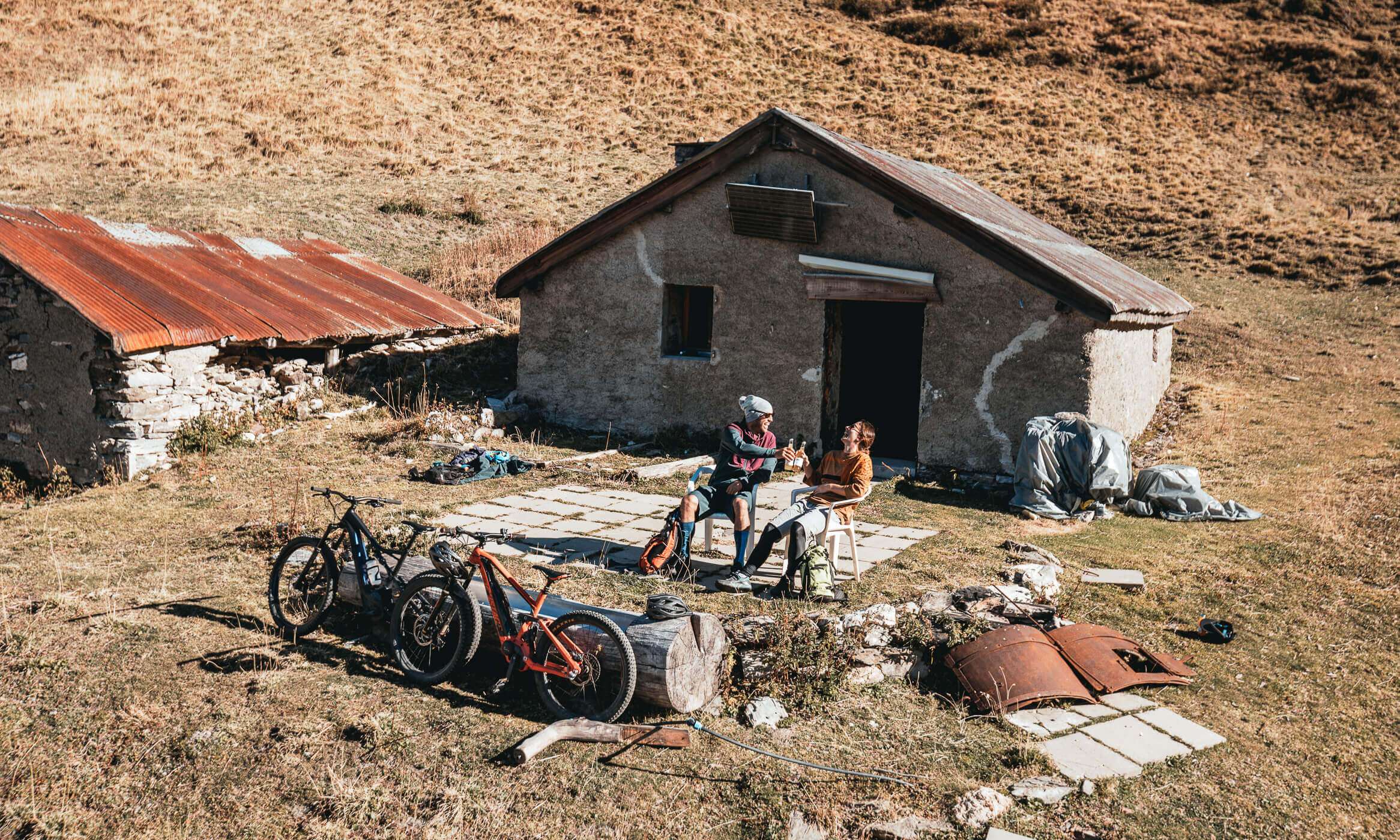 DAY 3: FROM BISSES TO ALPINE RIDGE
A small ascent leads you to an easy trail ending on the bisse we left yesterday… Flow, flow, flow and singletrail onto a second, more challenging but not less beautiful bisse. In the next ascent you are going to challenge your pushing skills to a magnificent ridge ride. You can also choose for an easier singletrail without having to push the bike. The day will end up on a magnificent pine needles trail. After the ride, it's time to explore the impressive world's highest gravity dam from inside. Tonight, Helen will welcome us in her cosy auberge for the most originally Swiss «cheese bread»!
Distance cycled: 35 km
D+ : 1400 m.
D- : 1900 m.
Technical difficulty: 2 to 3
DAY 4: SECRET JEWELS TRAILS LEAD US TO A COSY OLD SCHOOL HOTEL
We will be warming up on an easy rolling down singletrail. Your ascent will become a perfect playground for your e-bike. Rolling on uphill trails, crossing forests on hidden paths and arriving at the mythical Mandelon alpine pasture. Open your eyes and try to spot deers and alpine ibex hiding around. A balcony trail will lead you to an incredibly flowy forest path. Pow pow pow! Forest paths will lead us to the peaceful village of "La Sage". Settled in front of the beautiful 4'000 meter-high « Dent blanche ». It's time to take a brandy, relax in one of the sofas of the old-school Swiss hotel from 1890 or enjoy a hammam session while we wait for the chef to put his French touch to fresh local products!
Distance cycled: 37 km
D+ : 2'000 m.
D- : 1700 m.
Technical difficulty: 2 to 3
DAY 5: FROM AN AMAZING HIGH PASS TO AN HISTORICAL HOTEL
This morning, we suggest you to take a complete breakfast. The first ascent of the day will lead us to a sublime pass at 2'900 meters above sea level. The ascent is challenging but you can do most of it on your E-bike. Take time to enjoy the marvelous landscape during your ride downhill: 4'000 meters high peaks and amazingly sky-blue mountain lakes. Welcome to the Alpine paradise. After a flowy ride down to the valley, the second ascent leads us to a unique Swiss beauty: a hotel settled on a sublime plateau with a panoramic view on a large panel of 4'000-meter-high mountains. The best after-ride terrace ever!
Distance cycled: 30 km
D+ : 2200 m.
D- : 1500 m.
Technical difficulty: 2 to 3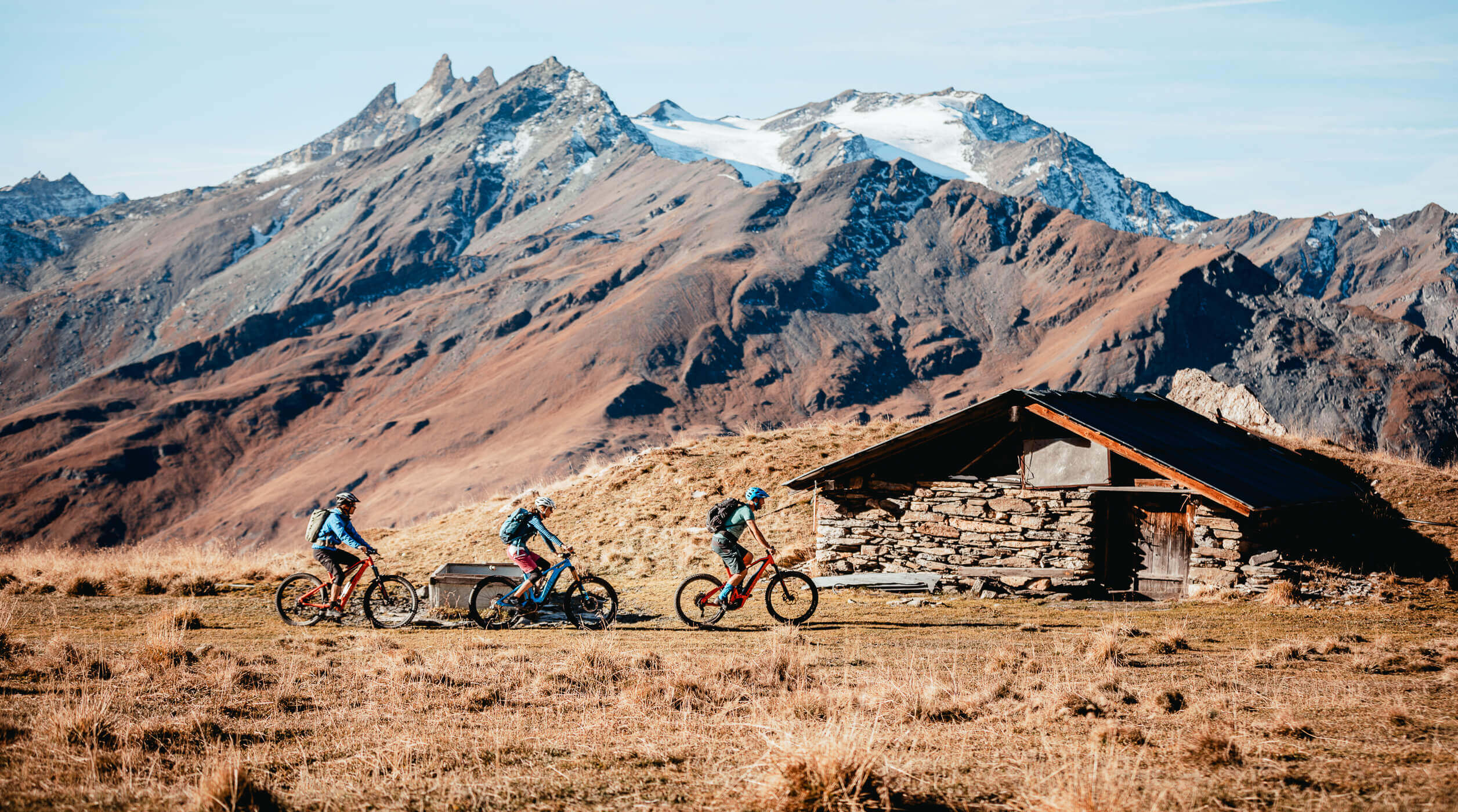 DAY 6: EPIC TRAIL REWARDED WITH A WELLNESS NIGHT
Open up your eyes… another memorable day is coming! You will first start with a challenging singletrail ascent to a magnificent pass at 2'800 meter above sea level. Wild, alpine, brute and beauty. The first part of the descent is quiet rocky… it is maybe a good time for a little walk of 2 KM. If you don't like rocky parts, you are lucky we have a second option ! A super funny trail which go down the valley. Time to smile and enjoy the speed. After a little shuttle, we are back on a balcony trail over the valley which will make you enjoy riding uphill. The following is a connection or a super well kept « Wanderweg ». Yes, we have reached the German part of Switzerland. Your day will end up on an alpine refuge at 2'000 meters above sea level. Tonight is the very special « wellness-raclette » evening: unique combination of jacuzzi, sauna and the most famous local dish, « Swiss cheese raclette ».
Breathe in, breathe out… you are not dreaming!
Distance cycled option 1: (O1) : 45 km
D + (O1) : 2200 m.
D – (O1) : 2500 m. 
Technical difficulty (O1) : 3 (2 km of 4 which can be walked)
Distance cycled option 2 (O2) : 45 km
D + (O2) :  1900 m.
D – (O2) : 2700 m. 
Technical difficulty (O2) : 2
DAY 7: A BALCONY PATH LEADS US TO MATTERHORN, ZERMATT
Last but not least, this final riding day starts with a sublime panoramic path and a flowy singletrail all the way down into the valley. Time to test our surprising old-school lifts for a second ride. Then, you will climb up the valley to Zermatt for a last beautiful sights. A mountain train will bring you up to "Gornergratt", at 3'000 meters for an ultimate descent in front of the mythical Mattherhorn. Don't forget your camera! We will end the day at the spa, looking at the Mattherhorn and waiting for the 4 course-menu while thinking about everything you've experienced during this week!
Distance cycled: 35 or 50 km (with Gornergrat)
D+ : 1200 m.
D- : 1600 m. or 3300 m. (with Gornergrat)
Technical difficulty: 2 or 3 (with Gornergrat)
DAY 8: LAST COFFEE IN ZERMATT
Sadly today we leave Switzerland behind. Take your time to enjoy one last time the beauty of the Matterhorn before leaving. We will drive you back to Chamonix.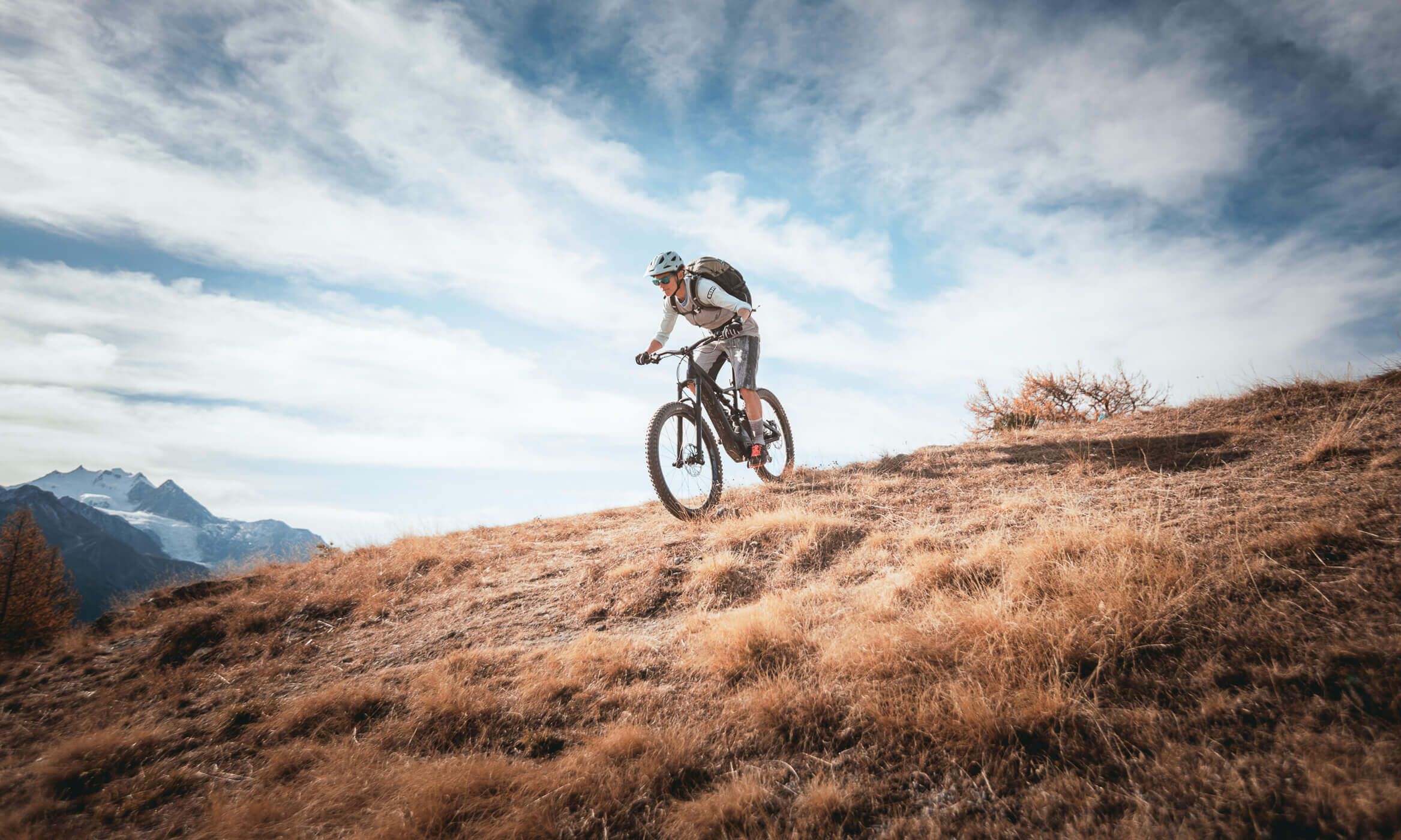 Dates

From 04 to 10 of July 2022: sold out !
From 11 to 17 of July 2022
From 01 to 07 of August 2022
From 12 to 18 of September 2022
From 26 of September to 02 of October 2022 

*"Ready to go" are trips that already have multiple participants but the group is not complete. The departure is guaranteed.

Duration:
7 days, 6 nights
Joining in:
Chamonix, France
Skill Level:

2 fitness / 2-3 technical

Type:
eBike
Cost:

3850.-CHF e-bike included / 3500.-CHF without e-bike

Number of riders:

10 riders